Jounce Therapeutics Announces Results from Pre-Planned Data Review of INNATE Phase 2 Trial of JTX-8064 and Pimivalimab Demonstrating Deep and Durable Responses in Platinum Resistant Ovarian Cancer
CAMBRIDGE, Mass., March 16, 2023 (GLOBE NEWSWIRE) -- Jounce Therapeutics Inc. (Nasdaq: JNCE), a clinical-stage company focused on the discovery and development of novel cancer immunotherapies and predictive biomarkers, today announced that patients from the INNATE Phase 2 trial in the ovarian cancer combination cohort with platinum resistant ovarian cancer are experiencing deep and durable responses based on a pre-planned informal data review.
The INNATE trial evaluates JTX-8064 as a monotherapy and in combination with the PD-1 inhibitor pimivalimab in patients with advanced solid tumors. JTX-8064, is a humanized IgG4 monoclonal antibody designed to specifically bind to the macrophage receptor Leukocyte Immunoglobulin Like Receptor B2 (LILRB2/ILT4), inhibiting LILRB2 binding with its ligands which may result in reprogramming immune-suppressive macrophages to enhance anti-tumor immunity.
A data review was conducted on March 15, 2023 to assess the potential to achieve proof-of-concept (POC) in the ovarian cancer combination cohort of the INNATE trial. In this cohort, 35 patients with third- and fourth-line platinum resistant ovarian cancer were treated with JTX-8064 and Jounce's PD-1 inhibitor, pimivalimab. There were five RECIST 1.1 responders, four of which are confirmed, with all five patients remaining on study for over six months with continued tumor reduction over time. The remaining 30 patients have discontinued treatment. Upon confirmation of a fifth confirmed partial response (PR), the ovarian combination cohort would meet Jounce internal criteria for POC, based on a statistically meaningful improvement over the benchmark of pembrolizumab alone in the analogous setting. In patients with one to six prior lines of therapy for ovarian cancer, pembrolizumab monotherapy demonstrated a response rate of 8.5%, with duration of response of 10.2 months. Two of the five responders in INNATE have a PD-L1 score of zero, indicating a low likelihood of response to a PD-1 inhibitor. The combination was well tolerated with <10% of patients reporting Grade 3 or greater related adverse events.
Ovarian Cancer Combination Cohort Responders
Subject
PD-L1
(CPS)
Response
Assessment
When was uPR
demonstrated
Current status
1
55%
cPR
Wk 9
-82.8% (wk 45)
2
15%
cPR
Wk 18
-66.4% (wk 36)
3
5%
cPR
Wk 18
-87.6% (wk 27)
4
0%
cPR
Wk 18
-78.26% (wk 27)
5
0%
uPR
Wk 27
-40% (wk 27)

Ovarian Combination Cohort Target Lesion % Change from Baseline over Time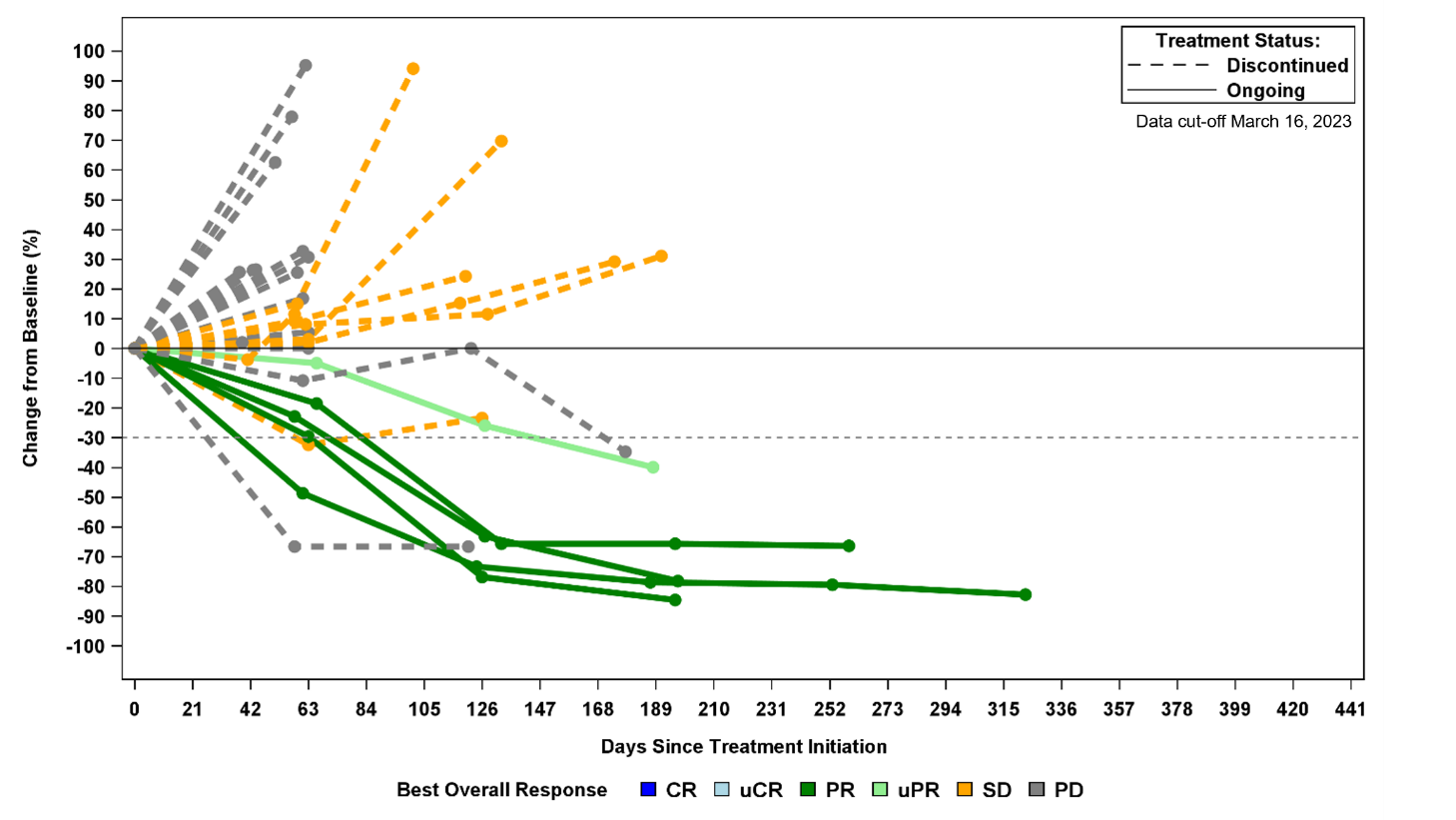 "Following this analysis, we are pleased to see these results demonstrating deep and durable responses in patients, including those with a PD-L1 score of 0%, on a very well tolerated regimen. These results lead us to believe that there is a potential for meaningful clinical benefit with this combination in patients with few durable therapeutic options," said Richard Murray, Ph.D., chief executive officer and president of Jounce Therapeutics. "Tumor reduction was observed at 9 weeks in all the responding patients in the ovarian cancer cohort of the INNATE trial, but most did not achieve a PR until week 18, which delayed our ability to assess efficacy in this cohort. Platinum resistant ovarian cancer is a patient population with significant unmet need and progressive disease is often associated with debilitating symptoms."
Enrollment has been completed in all cohorts in the INNATE trial. In addition to the patients with ovarian cancer, both durable responses and stable disease have occurred in patients with renal cell carcinoma, biliary tract cancer, and first-line and second/third-line head and neck squamous cell carcinoma, but the ovarian data is the most encouraging with potential to achieve pre-determined POC criteria.
As previously announced, Jounce is seeking to partner JTX-8064. Jounce continues to believe a company with additional resources and a longer value creation timeline could potentially advance this program for the benefit of cancer patients.
About Jounce Therapeutics
Jounce Therapeutics, Inc. is a clinical-stage immunotherapy company dedicated to transforming the treatment of cancer by developing therapies that enable the immune system to attack tumors and provide long-lasting benefits to patients through a biomarker-driven approach. Jounce currently has multiple development stage programs ongoing while simultaneously advancing additional early-stage assets from its robust discovery engine based on its Translational Science Platform. Jounce's highest priority program, JTX-8064, is a LILRB2 (ILT4) receptor antagonist shown to reprogram immune-suppressive tumor associated macrophages to an anti-tumor state in preclinical studies. JTX-8064 is being investigated alone and in combination with pimivalimab (formerly JTX-4014), Jounce's internal PD-1 inhibitor, in one monotherapy and seven indication-specific combination therapy cohorts in the Phase 1/2 INNATE trial. Jounce's most advanced product candidate, vopratelimab, is a monoclonal antibody that binds to and activates ICOS, and is currently being studied in the SELECT Phase 2 trial. Pimivalimab is a PD-1 inhibitor intended for combination use with Jounce's broader pipeline. For more information, please visit www.jouncetx.com.
Cautionary Note Regarding Forward-Looking Statements
Various statements in this release concerning Jounce's future expectations, plans and prospects, including without limitation, the potential clinical benefit of JTX-8064 in combination with a PD-1 inhibitor, the likelihood of any cohort in the INNATE trial achieving proof-of-concept, and the opportunities for potential advancement of its JTX-8064 program by a third party may constitute forward-looking statements for the purposes of the safe harbor provisions under The Private Securities Litigation Reform Act of 1995 and other federal securities laws and are subject to substantial risks, uncertainties and assumptions. You should not place reliance on these forward-looking statements, which often include words such as, "believe," "potential," or similar terms, variations of such terms or the negative of those terms. Although Jounce believes that the expectations reflected in the forward-looking statements are reasonable, Jounce cannot guarantee such outcomes. Actual results may differ materially from those indicated by these forward-looking statements as a result of various important factors, including, without limitation, whether interim results or past results from a clinical trial will be predictive of the final results of the trial or the results of future trials; Jounce's ability to successfully demonstrate the efficacy, safety and/or potential advantages of JTX-8064; Jounce's ability to establish and maintain a partnership on favorable terms, if at all and the success of any such partnership that Jounce enters into; Jounce's ability to obtain, maintain and protect its intellectual property; and those risks more fully discussed in the section entitled "Risk Factors" in Jounce's most recent Annual Report on Form 10-K filed with the Securities and Exchange Commission as well as discussions of potential risks, uncertainties, and other important factors in Jounce's subsequent filings with the Securities and Exchange Commission. All such statements speak only as of the date made, and Jounce undertakes no obligation to update or revise publicly any forward-looking statements, whether as a result of new information, future events or otherwise.
Investor and Media Contacts:
Kim Drapkin
Jounce Therapeutics, Inc.
+1-857-259-3840
ir@jouncetx.com
Julie Seidel
Stern Investor Relations, Inc.
+1-212-362-1200
Julie.seidel@sternir.com
A photo accompanying this announcement is available at https://www.globenewswire.com/NewsRoom/AttachmentNg/5ad7bcbc-4f81-4322-a1cb-9be8ec391bfb