BioVie Announces Additional Findings from Phase 2 Parkinson's Disease Trial: More patients treated with NE3107 experienced morning "on state" with levodopa withheld overnight compared to those treated with placebo
6 out of 20 patients treated with NE3107 experienced a morning "on state" while 0 out of 19 placebo-treated patients had an "on" (p=0.02)
CARSON CITY, Nev., March 06, 2023 (GLOBE NEWSWIRE) -- BioVie Inc., (NASDAQ: BIVI) ("BioVie" or the "Company") a clinical-stage company developing innovative drug therapies for the treatment of neurological and neurodegenerative disorders and advanced liver disease, today announced additional preliminary findings from its Parkinson's Disease (PD) Phase 2 trial. The preliminary findings show that significantly more patients treated with the Company's drug, NE3107, were assessed as being in the "ON" state in the morning after withholding their usual standard of care (SOC) for at least 8 hours before taking their usual morning Parkinson's medications, compared to patients on SOC alone plus placebo (p<0.02).
Many PD patients complain of having rigid muscles and difficulties getting out of bed in the morning, which is referred to as the muscles being in an "off state." Conversely, patients are considered to be in the "on state" if they retain sufficient muscle control. The "on state" is clinically meaningful for PD patients because it is the time when their motor symptoms are most optimally controlled, allowing for better movement and stability.
"Biovie's Phase 2 data is encouraging," commented Dr. Anthony Lang, the Jack Clark Chair for Parkinson's Disease Research at the University of Toronto, who was not involved with the trial. "Morning "OFF" symptoms cause significant impairment of movement and disability for patients with Parkinson's Disease. A potential treatment that can address this symptom is an important therapeutic need." Dr. Lang has published over 950 peer-reviewed papers and over 100 book chapters and is one of the most highly cited investigators in the field of Movement Disorders.
The Company previously reported that patients treated with the combination of NE3107 and levodopa experienced a 3+ points improvement on the part 3 (motor) score on the Movement Disorder Society Unified Parkinson's Disease Rating Scale (UPDRS), compared to patients treated with levodopa-alone. This difference is considered to be clinically meaningful according to PD experts [1] The difference is 6+ points among patients younger than 70 years old who presumably have less disease progression.
Before study commencement and at multiple points throughout the 28-day trial, patients who did not receive PD medications for at least 8 hours overnight were observed using UPDRS first thing in morning (hour 0). Patients were then given medication and observed again using UPDRS at 1, 2, 3, 4, and 8 hours after drug administration. Part 3 of the UPDRS instrument assessed motor control.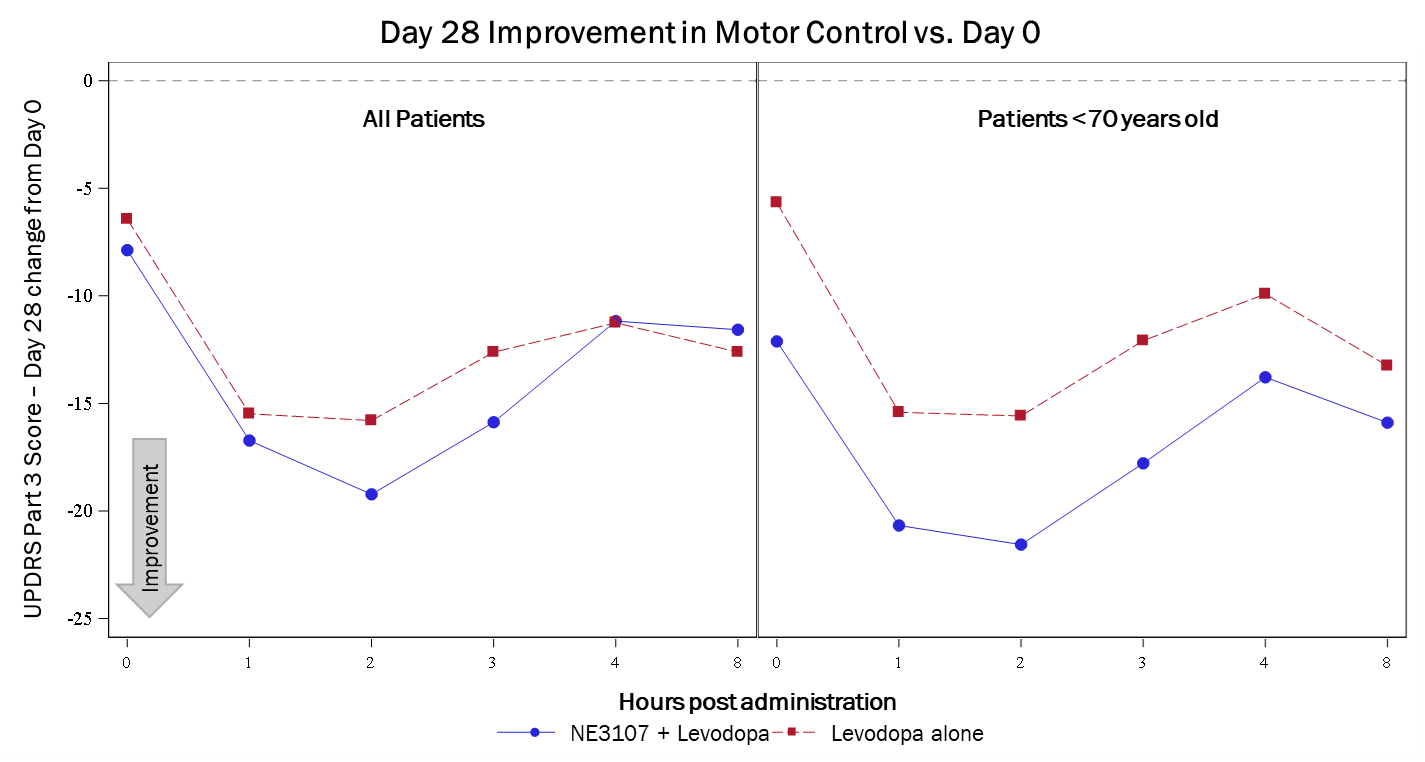 Additional per protocol analysis of the preliminary data revealed that 6 out of 20 of the NE3107-treated patients compared to none of the placebo-treated patients (p=0.02) experienced a morning "on state" with levodopa withheld overnight and prior to receiving their morning medication. This is explained by and can be seen most visibly from the right panel of the chart showing that NE3107-treated patients had lower part 3 (motor) disease score at time 0 (before medication administration) compared to those treated with levodopa alone. These exploratory findings in human subjects are consistent with earlier findings from non-human primates, which demonstrated the intrinsic promotoric activity of NE3107.
"This trial was primarily a safety and drug-drug interaction study that we expanded in hopes of finding an efficacy signal," explained Cuong Do, BioVie's President and CEO. "We believe that the data provide a very encouraging efficacy signal as measured by on/off state, and speak to the therapeutic potential we believe NE3107 may have for the treatment of PD."
Full details from this trial will be presented at the upcoming AD/PD™ 2023 International Conference on Alzheimer's and Parkinson's Diseases to be held March 28-April 1, 2023 in Gothenburg, Sweden.
Based on the favorable results from the Phase 2 trial, the Company is currently preparing to launch the Phase 3 potential pivotal trials to continue developing NE3107 in Parkinson's Disease. The Company expects to disclose additional details in the near future.
The NM201 study (NCT05083260) was a double-blind, placebo-controlled, safety, tolerability, and pharmacokinetics study in Parkinson's disease (PD) participants treated with carbidopa/levodopa and NE3107. 45 patients were randomized 1:1 to placebo:NE3107 20 mg twice daily for 28 days. This trial was launched with two design objectives: 1) the primary objectives were safety and a drug-drug interaction study as requested by the FDA to demonstrate the absence of adverse interactions of NE3107 with levodopa; and 2) the secondary objective was to determine if preclinical indications of promotoric activity and apparent enhancement of levodopa activity can be seen in humans.
About BioVie
BioVie Inc. (NASDAQ: BIVI) is a clinical-stage company developing innovative drug therapies for the treatment of neurological and neurodegenerative disorders and advanced liver disease. In neurodegenerative disease, the Company's drug candidate NE3107 inhibits inflammatory activation of ERK and NFkB (e.g., TNF signaling) that leads to neuroinflammation and insulin resistance, but not their homeostatic functions (e.g., insulin signaling and neuron growth and survival). Both are drivers of Alzheimer's and Parkinson's diseases. The Company is conducting a potentially pivotal Phase 3 randomized, double-blind, placebo-controlled, parallel-group, multicenter study to evaluate NE3107 in patients who have mild to moderate Alzheimer's disease (NCT04669028). Results of a Phase 2 investigator initiated trial (NCT05227820) showing NE3107-treated patients experienced improved cognition and biomarker levels were presented at the Clinical Trial in Alzheimer's Disease (CTAD) annual conference in December 2022. An estimated six million Americans suffer from Alzheimer's. A Phase 2 study of NE3107 in Parkinson's disease (NCT05083260) has completed, and topline data released in December 2022, showed clinically meaningful improvement in motor control in patients treated with a combination of NE3107 and levodopa vs. patients treated with levodopa alone, and no drug-related adverse events. In liver disease, the Company's Orphan drug candidate BIV201 (continuous infusion terlipressin), with FDA Fast Track status, is being evaluated in a US Phase 2b study for the treatment of refractory ascites due to liver cirrhosis. BIV201 is administered as a patent-pending liquid formulation. The active agent is approved in the U.S. and in about 40 countries for related complications of advanced liver cirrhosis. For more information, visit http://www.bioviepharma.com/.
Forward-Looking Statements
This press release contains forward-looking statements, including statements regarding the Company's strategy, plans and objectives, such as statements regarding the Company's anticipated timeline for announcing results from the NE3107 Phase 2 trial and details regarding the launch of its Phase 3 potential pivotal trials. Forward-looking statements may generally be identified by words such as "expect," "look forward to," "anticipate" "intend," "plan," "believe," "seek," "estimate," "will," "project" or words of similar meaning. Although BioVie Inc. believes such forward-looking statements are based on reasonable assumptions, it can give no assurance that its expectations will be attained. Actual results may vary materially from those expressed or implied by the statements herein due risks associated with conducting and completing clinical trials, including our reliance on third parties to conduct our clinical trials, to successfully defend potential future litigation, our ability to raise capital when needed on reasonable terms, changes in local or national economic conditions as well as various additional risks, many of which are now unknown and generally out of the Company's control, and which are detailed from time to time in reports filed by the Company with the SEC, including quarterly reports on Form 10-Q, reports on Form 8-K and annual reports on Form 10-K. BioVie Inc. does not undertake any duty to update any statements contained herein (including any forward-looking statements), except as required by law.
For Investor Relations Inquiries:
Contact:
Bruce Mackle
Managing Director
LifeSci Advisors, LLC
bmackle@lifesciadvisors.com
A photo accompanying this announcement is available at: https://www.globenewswire.com/NewsRoom/AttachmentNg/4505b363-9b58-41ff-ad00-3a38ae48fb92
[1] Horvath K. doi.org/10.1016/j.parkreldis.2015.10.006