Biotechnology Market Size Will Attain USD 3,879.52 BN By 2030
According to Nova one advisor's recent analyses the Biotechnology Market is valued at USD 1,023.93 Billion in 2021, and would all set to rocket up to USD 3,879.52 Billion by 2030, at a CAGR of 13.11% during the forecast period from 2022 to 2030
Request Free Sample of This Report@ https://www.novaoneadvisor.com/report/sample/6732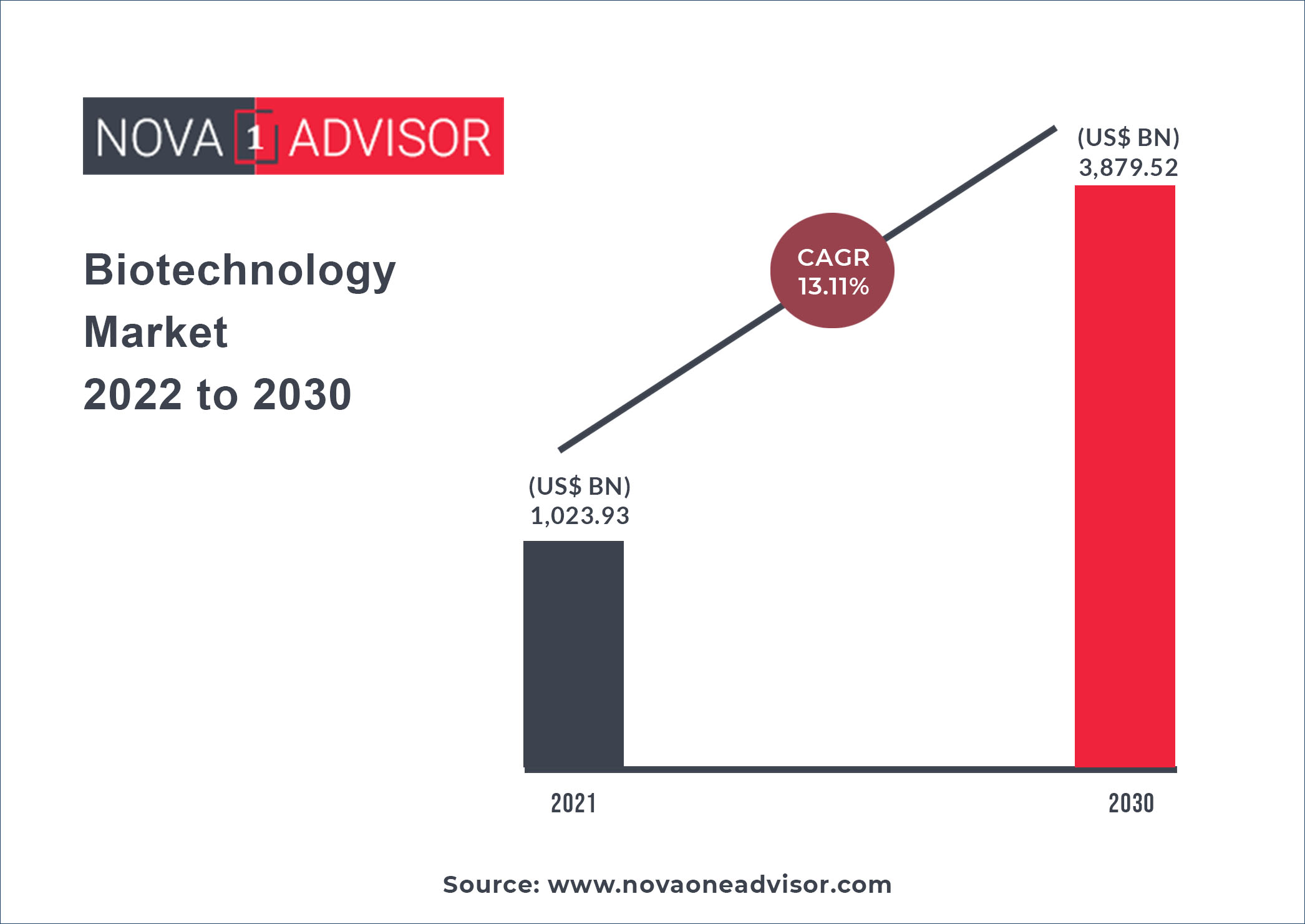 Ask here for more customization study@ https://www.novaoneadvisor.com/report/customization/6732
Key Takeaways:
The health application segment accounted for the largest share in 2021 due to high disease prevalence, increasing focus on regenerative medicines, innovations in technologies fueled by the COVID-19 pandemic, and improvements in healthcare infrastructure
The DNA sequencing technology segment accounted for the second-largest share in 2021 as a result of declining costs of sequencing and its increasing adoption in precision medicine development
North America held the largest share of the global market in 2021 owing to the launch of advanced biotechnological solutions facilitated by key players operating in the region
Asia Pacific is expected to register the fastest CAGR from 2022 to 2030 due to promising government initiatives and favorable regulatory changes in drug approval processes in India and China
Growth Factors:
The market is driven by strong government support through initiatives aimed at modernization of regulatory framework, improvements in approval processes & reimbursement policies, as well as standardization of clinical studies. The growing foothold of personalized medicine and an increasing number of orphan drug formulations are opening new avenues for biotechnology applications and are driving the influx of emerging and innovative biotechnology companies, further boosting the market revenue.
The COVID-19 pandemic has positively impacted the global market by propelling a rise in opportunities and advancements for drug development and manufacturing of vaccines for the disease. For instance, in 2021, over 11 billion doses of the COVID-19 vaccine were produced globally, resulting in the vaccination of about half of the world's population within a year. Furthermore, the success of mRNA vaccines and accelerated approval processes have led to a surge in vaccine-related revenues, as evident by a combined revenue generation of around USD 31 billion in 2021 from Moderna, Pfizer/BioNTech, and Johnson & Johnson vaccines. Rising demand for biotechnology tools for agricultural applications including micropropagation, molecular breeding, tissue culturing, conventional plant breeding & development of genetically modified crops, among others, have also boosted the market growth.
Moreover, genetically modified crops and herbicide-tolerant & insect-resistant seeds are witnessing increasing popularity and are contributing to the market growth. The rise in adoption of tissue culture technology for the production of novel rice variants and disease- & pest-free banana varieties in regions of South Asia and Africa, and the use of the technology for cloning of disease-free and nutritious plant varieties have propelled the agricultural applications for biotechnology. The market is also driven by the presence of a strong clinical trial pipeline and funding opportunities available in tissue engineering and regeneration technologies.
As per the Alliance for Regenerative Medicine, companies developing cell and gene therapies raised over USD 23.1 billion in investments globally in 2021, an increase of about 16% over 2020's total of USD 19.9 billion. The clinical success of leading gene therapy players in 2021, such as promising results from an in vivo CRISPR treatment for transthyretin amyloidosis, developed by Intellia Therapeutics and Regeneron, are significantly affecting the market growth. Rising demand for clinical solutions for the treatment of chronic diseases, such as cancer, diabetes, age-related macular degeneration, and almost all forms of arthritis are anticipated to boost the market.
Major firms are investigating and developing pipeline products for diabetes and neurological disorders, such as Parkinson's & Alzheimer's diseases, various types of cancers, and cardiovascular diseases. For instance, according to clinicaltrials.gov, as of January 2021, there were 126 agents in clinical trials for the treatment of Alzheimer's disease, with 28 treatments in phase III trials. Life sciences and healthcare sectors are experiencing a widespread use of fermentation technology and have positively impacted the market growth. Several modifications & advancements in the conventional bioreactors, such as the introduction of simplified bioreactors and vortex bioreactors, have led to improvements in the fermentation technology and growth in its adoption.
Report Scope of the Global biotechnology Market
| | |
| --- | --- |
| Report Coverage | Details |
| Market Size in 2021 | USD 1,023.93 Billion |
| Revenue Projection By 2030 | USD 3,879.52 Billion |
| Growth Rate | CAGR of 13.11% from 2022 to 2030 |
| Base Year | 2021 |
| Historical data | 2017 - 2020 |
| Forecast Period | 2022 to 2030 |
| Segments Covered | Technology, application, region |
| Companies Mentioned | AstraZeneca; Gilead Sciences, Inc.; Bristol-Myers Squibb; Biogen; Abbott Laboratories; Amgen Inc.; Novo Nordisk A/S; Merck KGaA; Johnson & Johnson Services, Inc.; Novartis AG; Sanofi, F. Hoffmann-La Roche Ltd.; Pfizer, Inc.; Lonza |
Furthermore, vortex bioreactors have also been improvised for wastewater processing, to offer enhanced operational feasibility. These modifications and improvements in fermentation technology are expected to accelerate market growth in the near future. CAR T and TCR T-cell therapies are being explored as potential treatment options against chronic viral infections, such as HIV, hepatitis B, and SARS-CoV-2. For instance, scientists at Duke-NUS Medical School are evaluating the use of T-cell therapy in combating the COVID-19 infection. Scientists have demonstrated that TCR-redirected T cells exhibit a functional profile comparable to that of SARS-specific CD8 memory T cells obtained from patients who have recovered from the infection.
Such investigations are anticipated to spur further research prospects in this domain and drive the market. Biotechnological techniques including stem cell technology, DNA fingerprinting, and genetic engineering, among others, are gaining significant traction in past few years. Technological advancement in stem cell therapeutics, increasing demand for biologics, and a growing focus on the development of personalized medicines have resulted in a growing market for stem cell technologies. DNA fingerprinting applications are on the rise in forensic science, and for the investigation of family relationships in animal populations as well as the measurement of the extent of inbreeding. Similarly, genetic engineering and cloning techniques are being increasingly used in animal breeding and for the manufacturing of complex biological substances.
Technology Insights
The nanobiotechnology segment is expected to expand at the fastest CAGR of 14.9% from 2022 to 2030 owing to an increase in nanomedicine approvals and the advent of advanced technology. For instance, applications of theranostics nanoparticles have gained impetus for enabling prompt diagnosis and customization of treatment options for multiple disorders at once. Factors, such as low toxicity, smaller size, and chemical plasticity of nanoparticles have proved to be beneficial for overcoming the limitation associated with conventional routes of generic drug administration. Furthermore, tissue engineering and regeneration medicine held a significant share due to government and private investments in the field, along with high healthcare spending & presence of several mature & emerging players in this space.
These factors are expected to drive the segment growth over the forecast period. DNA sequencing technology led the market in 2021 and accounted for the largest revenue share due to declining sequencing costs and rising penetration of advanced DNA sequencing techniques. Government funding in genetic research has enabled a rise in applications of sequencing for a better understanding of diseases. For instance, in May 2021, a USD 10.7 million NIH grant was awarded to the University of Pittsburgh Graduate School of Public Health and Washington University School of Medicine in St. Louis, for the investigation of the genetic basis of Alzheimer's disease.
Application Insights
The health application segment accounted for the largest share in 2021 at more than 50.04% and is expected to be the leading segment throughout the forecast period. Growing disease burden, increasing availability of agri-biotech & bio-services, and technological developments in the bio-industrial sector are expected to drive the segment growth. The segment growth is also fueled by significant advancements in the fields of Artificial Intelligence (AI), machine learning, and big data, which are expected to increase penetration of bioinformatics applications, especially in industries, such as food and beverages.
Moreover, collaborative efforts and partnerships aimed at the development and commercialization of new therapeutic platforms and molecules are anticipated to drive market growth. For instance, in January 2021, Novartis collaborated with Alnylam for exploring the application of the latter's siRNA technology for the development of targeted therapy for the restoration of liver function. Similarly, in September 2021, AstraZeneca and VaxEquity collaborated on the development and commercialization of a self-amplifying RNA therapeutics platform to explore novel therapeutic programs. Furthermore, the growing demand for biosimilars and rising applications of precision medicine is expected to boost segment growth during the forecast period.
Regional Insights
North America accounted for the largest share of 44.21% in 2021. The regional market is witnessing growth due to several factors, such as the presence of key players, extensive R&D activities, and high healthcare expenditure. The region has a high penetration of genomics, proteomics, and cell biology-based platforms that is accelerating the adoption of life sciences tools. Furthermore, the rise in prevalence of chronic diseases and rising adoption of personalized medicine applications for the treatment of life-threatening disorders is expected to positively impact the market growth in the region. The Asia Pacific is expected to expand at the fastest growth rate from 2022 to 2030.
The growth of the regional market can be attributed to increasing investments and improvement in healthcare infrastructure, favorable government initiatives, and expansion strategies from key market players. For instance, in February 2022, Moderna Inc. announced its plans for a geographic expansion of its commercial network in Asia through the opening of four new subsidiaries in Malaysia, Singapore, Hong Kong, and Taiwan. In addition, biopharmaceutical collaborations, such as Kiniksa Pharmaceuticals and Huadong Medicine's strategic collaboration for the development and commercialization of Kiniksa's ARCALYST and mavrilimumab in the AsiaPacific region are expected to drive the market growth.
Key Companies & Market Share Insights
Biotechnology products have become the vanguard strategy to combat challenges posed by the COVID-19 pandemic. A robust pipeline of companies operating in this industry has helped them sustain the dynamic market competition in 2021. Geographical expansion, strategic partnerships & collaborations, as well as mergers & acquisitions undertaken by these players are fueling the market growth. For Instance, in November 2021, Novo Nordisk acquired Dicerna, a company focusing on RNA interference technology, for USD 3.3 billion, while in August 2021, Sanofi paid USD 3.2 billion for the acquisition of Translate Bio and its mRNA platform. Some of the key players in the global biotechnology market include:
AstraZeneca
Gilead Sciences, Inc.
Bristol-Myers Squibb
Sanofi
Biogen
Abbott Laboratories
Pfizer, Inc.
Amgen, Inc.
Novo Nordisk A/S
Merck KGaA
Johnson & Johnson Services, Inc.
Novartis AG
F. Hoffmann-La Roche Ltd.
Lonza
Segments Covered in the Report
This report forecasts revenue growth at global, regional, and country levels and provides an analysis of the latest industry trends in each of the sub-segments from 2018 to 2030. For the purpose of this report, Nova one advisor has segmented the global biotechnology market report on the basis of technology, application, and region:
By Technology

Nanobiotechnology
Tissue Engineering & Regeneration
DNA Sequencing
Cell-based Assays
Fermentation
PCR Technology
Chromatography
Others

By Application

Health
Food & Agriculture
Natural Resources & Environment
Industrial Processing
Bioinformatics
Other Applications
Full Report is Ready | For Purchase Inquiry@ https://www.novaoneadvisor.com/report/checkout/6732
You can place an order or ask any questions, please feel free to sales@novaoneadvisor.com| +1 9197 992 333
Blog: https://www.novaoneadvisor.com/
Blog: https://www.visionresearchreports.com/
Blog: https://qyresearchmedical.com/